Facing Grief
Week One Materials

Welcome to The Alchemy of Grief Webinar Series: Facing Grief
Each section will help you explore the concepts presented in the Facing Grief Webinar:

An instructional video from the Soul & Science Series: This video is a key support to the ideas shared in Richard's Webinar. It takes approximately five minutes to view.
Questions to Ponder & Journaling Exercises: The questions presented in this section are meant to help you connect and reflect on the concepts presented. You may choose to journal on one or more of the questions, or you may choose to discuss them with fellow participants. No answers need to be submitted to Sacred Art of Living Center – these are for your personal study.
Best Practices: We encourage all participants to choose one best practice to incorporate into their daily, weekly, or monthly schedule.
Article Suggestions: Excellent resources for further study
Websites: Places to visit for a wealth of information
Book Recommendations: Books that would make an excellent addition to your personal library or could be a strong choice for group study
Videos/Films: Ted Talks, Meditations, Movies, and more
Poems: Links to poems that can be a starting point for journaling or inspiration for your own poetry writing
Songs: Links to songs that inspire, soothe, or communicate the experience of grief
Take five minutes to watch a video from the Alchemy of Grief webinar presenter, Richard Groves.  Taken from the Soul & Science for Caregivers online video series, Transforming Suffering, Richard shares a personal story about prospective grief and shares a best practice that can support persons both before and after serious loss. Click here for a PDF of the Spiritual Assessment Tool.
Questions to Ponder & Journaling Exercises
1. Take a moment and assess your own level of pain around grief, whether from death or loss in other areas of your life. Respond with a 1-5 Scale. 1-Overwhelmed with Pain due to Grief and Loss / 5- At Peace with Grief and Loss.
0________1________2________3________4________5
Overwhelmed                                                    At Peace
What situations are causing grief now or have caused grief in the past? How are these events impacting you at this time? Are you seeing any emotional consequences? Any physical effects? Do you feel your quality of life is diminished by the pain of grief?
2. "Love endures death. The loss of a significant loved one is something that is not gotten 'over.' The work of grief involves learning to live with and adjust to the loss . . . there may be a sense that you are never finished with grief, but realistic goals of grief work include regaining an interest in life and feeling hopeful again." – J. William Worden, Harvard Medical School
How do we communicate the message to "get over" the death of a loved one, either socially or professionally? What are some "realistic goals" you can make to help yourself, a grieving friend, family member, or care receiver process the pain of grief?
3. "Pain that is not transformed is transmitted." – Richard Rohr
In your experience, why do so many people resist the concept that emotional pain must processed instead of ignored? How does unresolved suffering transfer to others? How can the idea of "transforming" suffering and pain be incorporated in your life?
1.The PDQ is a simple, open-ended question: "What do I need to know about you as a person to give you the best care possible?" Take a moment and ask yourself this same basic question: "What do I need to know about myself to practice self-care in the best way possible?" Set aside at least ten minutes to sit quietly. Ask yourself "what do I need today?" but resist actively brainstorming for answers. Let the quietness stay with you as long as possible. After your meditation is over, write down what needs have come to mind and make goals, plans, or requests in response to your insights.
2. For one week build your relationship with nature. Set an intention of deep connection and take a walk or find a "sit space" where you can be surrounded by nature, even if the weather is poor. Be fully present and feel how you are a part of the seasons. Notice signs of birth and death. See the beauty in it all.
Led by grief counselor and educator Dr. Alan Wolfelt, we are an organization dedicated to helping people who are grieving and those who care for them. Perhaps someone you love has died, or you want to help a grieving friend or family member. Or maybe you are a professional or volunteer grief caregiver. Either way, we are here to offer resources and understanding
Candid conversation about grief. Modern Loss is a place to share the unspeakably taboo, unbelievably hilarious, and unexpectedly beautiful terrain of navigating your life after a death. Beginners welcome.
– C. S. Lewis
Written after his wife's tragic death as a way of surviving the "mad midnight moment," A Grief Observed is C.S. Lewis's honest reflection on the fundamental issues of life, death, and faith in the midst of loss. This work contains his concise, genuine reflections on that period: "Nothing will shake a man — or at any rate a man like me — out of his merely verbal thinking and his merely notional beliefs. He has to be knocked silly before he comes to his senses. Only torture will bring out the truth. Only under torture does he discover it himself." This is a beautiful and unflinchingly honest record of how even a stalwart believer can lose all sense of meaning in the universe, and how he can gradually regain his bearings.
– Alan D. Wolfelt, 2004
Explaining the important difference between grief and mourning, this book explores every mourner's need to acknowledge death and embrace the pain of loss. Also explored are the many factors that make each person's grief unique and the many normal thoughts and feelings mourners might have.
– Alan D. Wolfelt, 2005
Renowned author and educator Alan Wolfelt redefines the role of the grief counselor in this guide for caregivers. His new model for "companioning" the bereaved gives a viable alternative to the limitations of the medical establishment, encouraging counselors and other caregivers to aspire to a more compassionate philosophy. This approach argues that grief need no longer be defined, diagnosed, and treated as an illness but rather should be an acknowledgement of an event that forever changes a person's worldview. Through careful listening and observation, the caregiver learns to support mourners and help them help themselves heal.
Film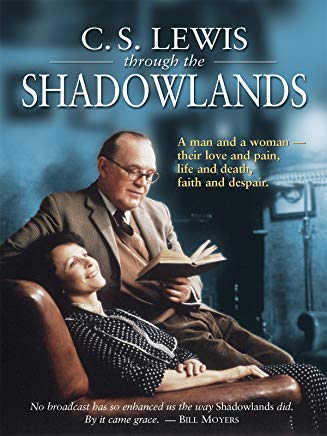 Starring Joss Ackland and Claire Bloom. This movie is about the agonizing spiritual crisis of C. S. Lewis when his wife died from cancer. The love, grief, pain, and sorrow were so shattering to Lewis that his basic Christian beliefs, magnificently communicated in his many books, were now called into serious doubt.
Good grief! What I learned from loss | Elaine Mansfield | TEDxChemungRiver
Published on Dec 9, 2014
This talk was given at a local TEDx event, produced independently of the TED Conferences. There is power in grieving intentionally and purposefully. Telling her own story of loss, Elaine Mansfield explains the use of ritual as a tool for empowerment for life's most challenging times.
Elaine Mansfield is a writer and bereavement educator who has lived on land overlooking the Seneca Lake Valley since 1972. She leads bereavement groups and workshops, and writes for Hospicare and Palliative Care of Tompkins County. Her writing reflects her forty years as a student of Jungian psychology, mythology, meditation and nature. Until 2011, she was a nutrition and exercise counselor. Since her husband's death in 2008, her work has focused on healing, finding meaning, and creating a new life after loss. Elaine's book "Leaning into Love: A Spiritual Journey through Grief" was published by Larson Publications in October 2014. The poet Naomi Shihab Nye wrote, "This magnificent, profoundly moving book gives encouragement and solace to all." Elaine writes a weekly blog about life's adventures and lessons at elainemansfield.com/blog.
"Tears in Heaven" — Eric Clapton
Tragedy Inspires Eric Clapton's 'Tears in Heaven' In 1991, following the death of his son, Conor, Eric Clapton collaborated with songwriter Will Jennings to write "Tears in Heaven." The song is a memorial to Conor, who at four years old, fell 50 stories to his death from a New York City apartment building.
"If I Could Be Where You Are"
This is a song from Enya, an Irish singer, songwriter and musician. It was recorded in Ireland with her longtime partners, arranger and producer Nicky Ryan and his wife, lyricist Roma Ryan. Roma wrote that this is "a song of sadness."