Healing with Your Soul Child
Week Two Materials

Questions to Ponder & Daily Practice
Friday, April 17, 2020
What is a trait of your shadow side that is powerful and deeply buried?  You can usually determine this by identifying a characteristic or behavior that you find most offensive in others. How does this same trait show up in your character? Take a moment and strip away your judgment and reactivity around this issue. Ask yourself how you can bring this side of your shadow self into the light.
Saturday, April 18, 2020
Take another look at the handout Shadow Side vs Soul Child. Note that your shadow can have both unconscious negative and positive qualities. What could be an invisible positive quality of you shadow side? You can get hints to what this trait might be by thinking of what characteristics you find most appealing in others. How might these traits also be part of your inner-world?
Sunday, April 19, 2020
Take a walk and look for signs of growth: new flowers, buds on trees, gardens bursting with life, etc. No matter the season, nature shows us the power of recreation. Reflect on how you are experiencing growth in your life. Journal, create a poem, or make a piece of art that reflects how the power of growth is manifesting in your life.
Monday, April 20, 2020
What does "being centered" mean to you? If you have chosen or created a mandala, what does the center of that image make you think of or feel? What image or metaphor represents "a sense of centered?" Spend some time contemplating the concept of "being centered" and how it relates to your enneatype.
Tuesday, April 21, 2020
Explore the concept of "Being & Soul" presented in Webinar 3. "Being" is defined as the true nature of everything and "Soul" is defined as the individual manifestation of our divine nature. Reflect on the Sandra Maitri quote that accompanied this idea: "Each of us is a unique manifestation of being. As we experience the Essence of who we are, the constructs of our personality dissolve and Being is experienced through our individual soul." Journal any thoughts, questions, or insights that come to mind.
Wednesday, April 22, 2020
Review your enneatype's challenges and strengths. Know that you will always be flowing between these two places. How can you hold the tragic gap between your enneatype's virtue and vice/passion? How can you better forgive yourself for not being perfect but also inspire yourself to seek meaningful change?
Enneagram Chart of Styles Handout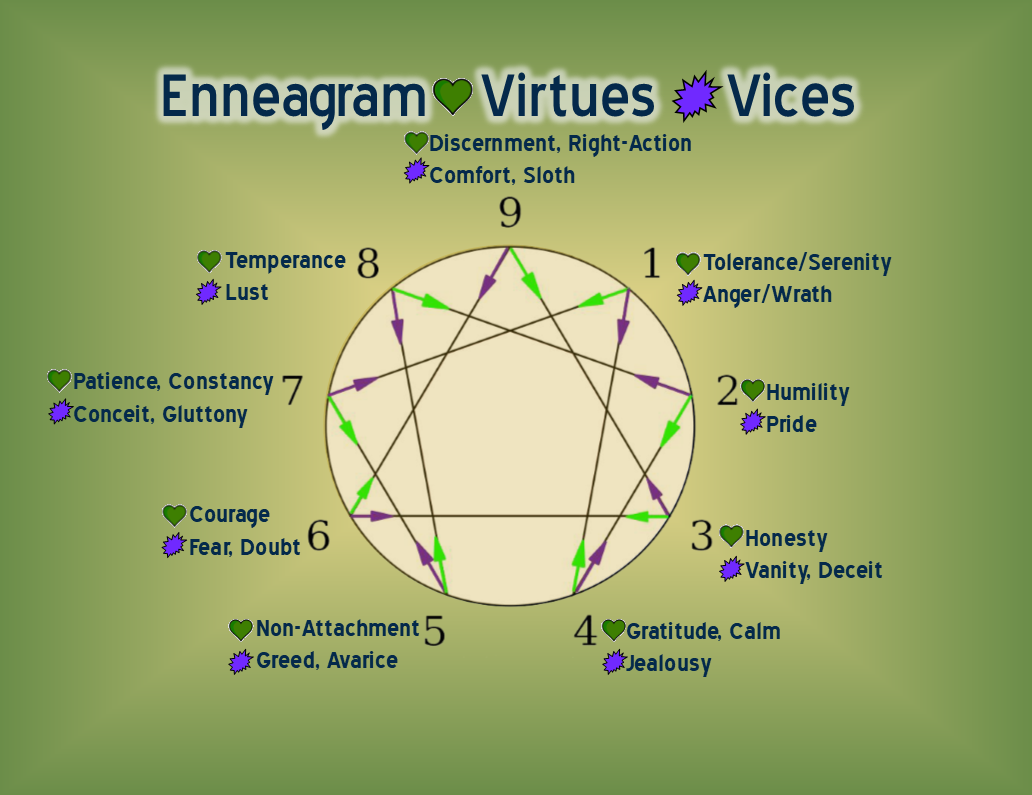 Saturday, April 11, 2020
OUR DEEPEST FEAR
by Marianne Williamson in "A Return to Love"
Our deepest fear is not that we are inadequate.
Our deepest fear is that we are powerful beyond measure.
It is our light, not our darkness that most frightens us.
We ask ourselves, who am I to be brilliant, gorgeous, talented and fabulous?
Actually, who are you not to be?
You are a child of God/Divine Light.
Your playing small does not serve the world.
There is nothing enlightened about shrinking so that other people won't feel insecure about you
We were born to manifest the glory of God that is within us.
It's not just in some of us: it's in everyone.
And, as we let our own light shine, we unconsciously give other people permission to do the same.
As we are liberated from our own fear, our presence automatically liberates others.
Sunday, April 12, 2020
A Springtime Prayer
By George A Tyger
O' power of springtime,
Spirit of green grasses
and warm breezes;
Goddess of creativity
of birth
of life renewed
You sing all about us at this time.
The birds call your sacred name.
Buds burst forth with your vestment.
The sun reaches higher into the sky
shining the light of this new day
through the windows of your cathedral,
this world.
O power of springtime
forgive us our speediness
and our racing before your
eternal grace
that we do not see the myriad
miracle world we share.
Open our eyes with your warmth
and our hearts with your beauty
slow our minds with awe and wonder.
Dear Spirit of green grasses
and warm breezes;
let us find here
in these moment of quiet
the grace of your breath
as we breathe into our bodies
the spirit of spring.
AMEN
Monday April 20, 2020
Wednesday, April 22, 2020
Out beyond ideas of wrongdoing and rightdoing,
there is a field. I'll meet you there.
When the soul lies down in that grass,
the world is too full to talk about.
Ideas, language, even the phrase "each other"
doesn't make any sense.
The breeze at dawn has secrets to tell you.
Don't go back to sleep.
You must ask for what you really want.
Don't go back to sleep.
People are going back and forth across the doorsill
where the two worlds touch.
The door is round and open.
Don't go back to sleep.
-Rumi