Healing with Your Soul Child
Week Three Materials

Questions to Ponder & Daily Practice
Friday, April 24, 2020
Review the Holy Idea of your Soul Child. Just like yesterday's best practice, write down the Holy Idea and ask yourself "How can I bring this Holy Idea fully into the light?"
Saturday, April 25, 2020
Read over all the Holy Ideas. Knowing that you have all enneastyles inside you, how can you celebrate all the Holy Ideas? Reflect on how you manifest Holy Perfection, Holy Will, Holy Law, Holy Origin, Holy Omniscience, Holy Faith, Holy Plan, Holy Truth, and Holy Love.
Sunday, April 26, 2020
How can you better tap into the power of surrender? What fears do you need to release? What unhealthy habits or behaviors do you grasp to provide a sense of control? How does this relate to your enneatype? How can surrender also bring freedom?
Monday, April 27, 2020
What does "authentic love" mean to you? How is it expressed? How is it received? How does your enneastyle get in the way of "authentic love" and how does it help you?
Tuesday, April 28, 2020
Today, look at how can you find beauty in imperfection. Take a moment and look outside. Find something that strikes you as beautiful. What within that object is imperfect? How does its imperfection make it even more beautiful? Reflect on how this is true for you as well.
Wednesday, April 29, 2020
How do you react to criticism, whether from others or yourself? Think of a time that you have faced criticism. Try to put yourself into that moment. How do you react, physically? Where do you hold the tension? Allow yourself to fully release that tension and spread the relaxation through your head, heart, and gut space. As you release the tension, release the reactivity – whether it is anger, shame, or fear – at the same time.
Thursday, April 30, 2020
Today is the last day of materials from the Enneagram as Mirror to the Soul Webinar Series. Take a moment and reflect on the following questions:
What have I learned?
What has inspired me?
What am I working on now?
What is a long-term goal?
What am I grateful for?
Friday, April 24, 2020
You have no idea how hard I've looked for a gift to bring You.
Nothing seemed right.
What's the point of bringing gold to the gold mine,
or water to the ocean.
Everything I came up with was like taking spices to the Orient.
It's no good giving my heart and my soul
because you already have these.
So I've brought you a mirror.
Look at yourself and remember me.
-Rumi
Saturday, April 25, 2020
Read:
"The Holy Ideas: Being and Everythingness"
By Ron Esposito
Sunday, April 26, 2020
"Always say 'yes' to the present moment. What could be more futile, more insane, than to create inner resistance to what already is? what could be more insane than to oppose life itself, which is now and always now? Surrender to what is. Say 'yes' to life — and see how life suddenly starts working for you rather than against you."
― Eckhart Tolle
Monday, April 27, 2020
On Love
Kahlil Gibran – 1883-1931
Then said Almitra, Speak to us of Love.
And he raised his head and looked upon the people, and there fell a stillness upon them. And with a great voice he said:
When love beckons to you, follow him,
Though his ways are hard and steep.
And when his wings enfold you yield to him,
Though the sword hidden among his pinions may wound you.
And when he speaks to you believe in him,
Though his voice may shatter your dreams as the north wind lays waste the garden.
For even as love crowns you so shall he crucify you. Even as he is for your growth so is he for your pruning.
Even as he ascends to your height and caresses your tenderest branches that quiver in the sun,
So shall he descend to your roots and shake them in their clinging to the earth.
Like sheaves of corn he gathers you unto himself
He threshes you to make you naked.
He sifts you to free you from your husks.
He grinds you to whiteness.
He kneads you until you are pliant;
And then he assigns you to his sacred fire, that you may become sacred bread for God's sacred feast.
All these things shall love do unto you that you may know the secrets of your heart, and in that knowledge become a fragment of Life's heart.
But if in your heart you would seek only love's peace and love's pleasure,
Then it is better for you that you cover your nakedness and pass out of love's threshing-floor,
Into the seasonless world where you shall laugh, but not all of your laughter, and weep, but not all of your tears.
Love gives naught but itself and takes naught but from itself.
Love possesses not nor would it be possessed;
For love is sufficient unto love.
When you love you should not say, "God is in my heart," but rather, "I am in the heart of God."
And think not you can direct the course of love, for love, if it finds you worthy, directs your course.
Love has no other desire but to fulfill itself.
But if you love and must needs have desires, let these be your desires:
To melt and be like a running brook that sings its melody to the night.
To know the pain of too much tenderness.
To be wounded by your own understanding of love;
And to bleed willingly and joyfully.
To wake at dawn with a winged heart and give thanks for another day of loving;
To rest at the noon hour and meditate love's ecstasy;
To return home at eventide with gratitude;
And then to sleep with a prayer for the beloved in your heart and a song of praise upon your lips.
Tuesday, April 28, 2020
"Imperfections are not inadequacies; they are reminders that we're all in this together."
― Brené Brown
 Wednesday, April 29, 2020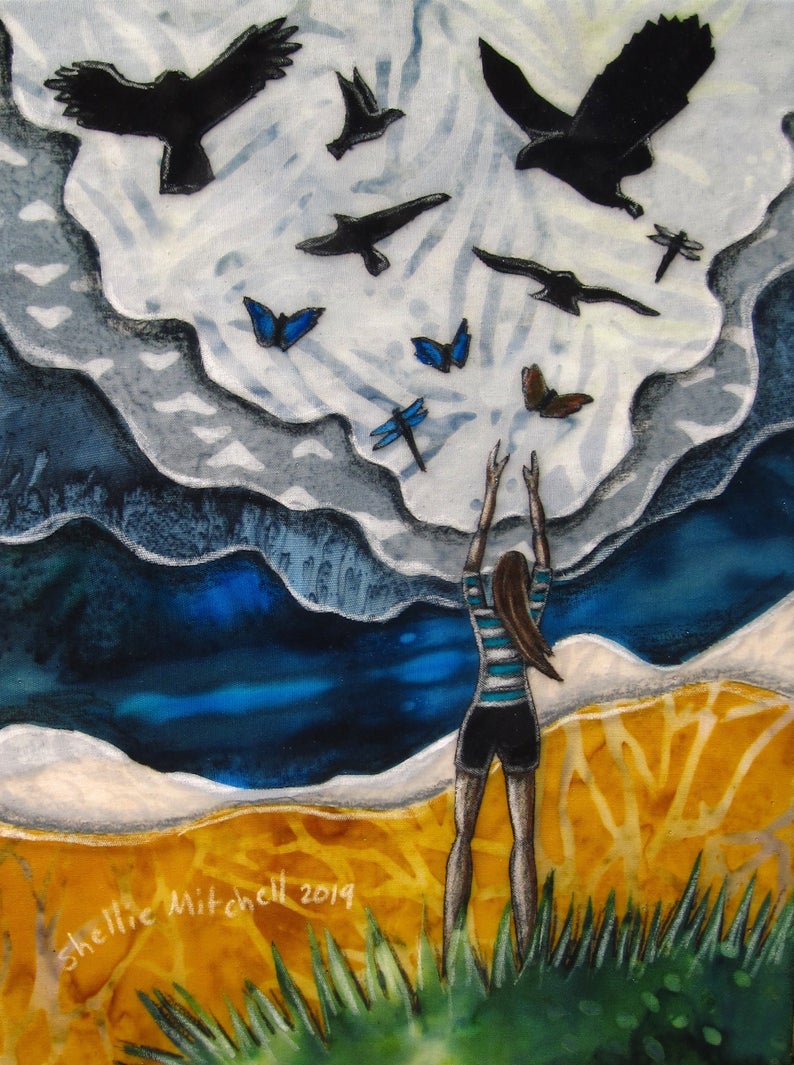 "Released" by Shellie Mitchell
Thursday, April 30, 2020
Two Rumi Quotes:
"Let go of your worries and be completely clear-hearted, like the face of a mirror that contains no images. If you want a clear mirror, behold yourself and see the shameless truth, which the mirror reflects. If metal can be polished to a mirror-like finish, what polishing might the mirror of the heart require? Between the mirror and the heart is this single difference: the heart conceals secrets, while the mirror does not."
"If you could get rid of yourself just once, the secret of secrets would open to you. The face of the unknown, hidden beyond the universe would appear on the mirror of your perception."