―Atul Gawande, 2014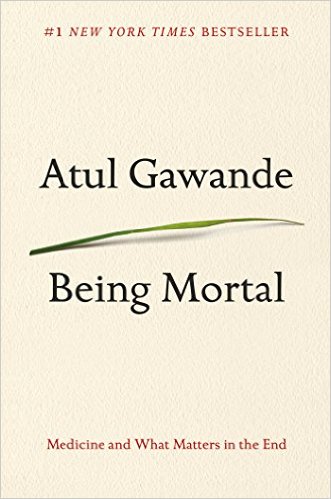 In Being Mortal, bestselling author Atul Gawande tackles the hardest challenge of his profession: how medicine can not only improve life but also the process of its ending
Medicine has triumphed in modern times, transforming birth, injury, and infectious disease from harrowing to manageable. But in the inevitable condition of aging and death, the goals of medicine seem too frequently to run counter to the interest of the human spirit. Nursing homes, preoccupied with safety, pin patients into railed beds and wheelchairs. Hospitals isolate the dying, checking for vital signs long after the goals of cure have become moot. Doctors, committed to extending life, continue to carry out devastating procedures that in the end extend suffering.
Gawande, a practicing surgeon, addresses his profession's ultimate limitation, arguing that quality of life is the desired goal for patients and families. Gawande offers examples of freer, more socially fulfilling models for assisting the infirm and dependent elderly, and he explores the varieties of hospice care to demonstrate that a person's last weeks or months may be rich and dignified.
Full of eye-opening research and riveting storytelling, Being Mortal asserts that medicine can comfort and enhance our experience even to the end, providing not only a good life but also a good end.
– William Bridges, 2004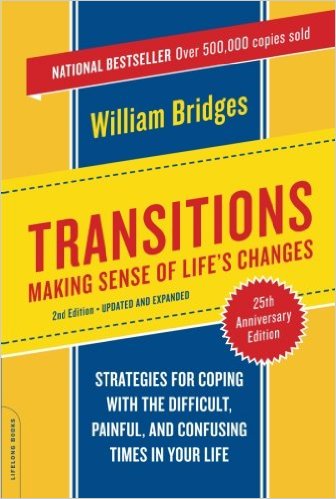 Whether it is chosen or thrust upon you, change brings both opportunities and turmoil. Since first published 25 years ago, Transitions has helped hundreds of thousands of readers cope with these issues by providing an elegantly simple yet profoundly insightful roadmap of the transition process. With the understanding born of both personal and professional experience, William Bridges takes readers step by step through the three stages of any transition: The Ending, The Neutral Zone, and, in time, The New Beginning. Bridges explains how each stage can be understood and embraced, leading to meaningful and productive movement into a hopeful future. With a new introduction highlighting how the advice in the book continues to apply and is perhaps even more relevant today, and a new chapter devoted to change in the workplace, Transitions will remain the essential guide for coping with the one constant in life: change.
– Joan Halifax, 2009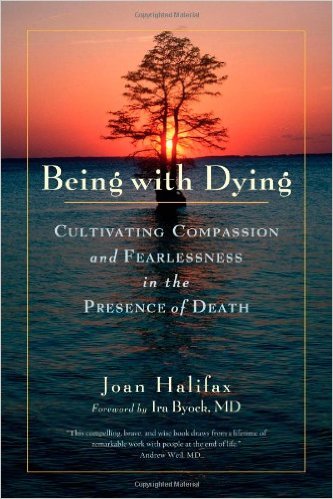 The Buddhist approach to death can be of great benefit to people of all backgrounds—as has been demonstrated time and again in Joan Halifax's decades of work with the dying and their caregivers. Inspired by traditional Buddhist teachings, her work is a source of wisdom for all those who are charged with a dying person's care, facing their own death, or wishing to explore and contemplate the transformative power of the dying process. Her teachings affirm that we can open and contact our inner strength, and that we can help others who are suffering to do the same.
– Bernie Siegel, MD, 1998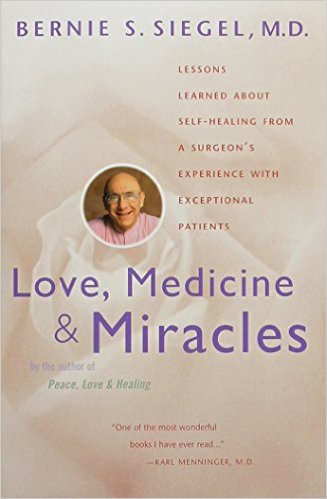 Unconditional love is the most powerful stimulant of the immune system. The truth is: love heals. Miracles happen to exceptional patients every day—patients who have the courage to love, those who have the courage to work with their doctors to participate in and influence their own recovery.
– Liz Crocker , Bev Johnson , 2014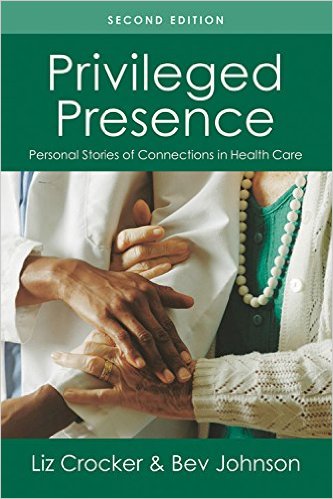 Winner of: 2015 Book of the Year Award, American Journal of Nursing
Privileged Presence is a collection of more than 50 stories that capture both the medical and emotional aspects of the health care experience through tales from those who have been there, and offers powerful messages about the essential ingredients of "good" health care: respect, compassion, collaboration, open and honest communication, family involvement, and flexibility and responsiveness to individuals and their needs. This updated second edition uses real-world experiences recounted by patients and their families, nurses, doctors, and other health care professionals to illustrate what works and what doesn't and what increases or diminishes people's sense of confidence and well-being.
– Kathleen Dowling Singh, 2000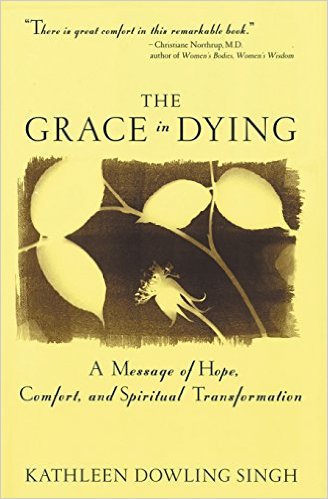 In this brilliantly conceived and beautifully written book, Kathleen Dowling Singh illuminates the profound psychological and spiritual transformations experiences by the dying as the natural process of death reconnects them with the source of their being. Examining the end of life in the light of current psychological understanding, religious wisdom, and compassionate medical science, The Grace of Dying offers a fresh, deeply comforting message of hope and courage as we contemplate the meaning of our mortality.
While the prevailing Western medical tradition has seen death as an enemy to be fought and overcome, Singh offers a richer and more rewarding path of understanding. Combining extensive training and education in developmental psychology with profound spiritual insight, she balances expert analysis with moving accounts drawn from her experiences working with hundreds of dying patients at a large hospice.
Singh moves beyond the five stages of dying revealed in Kübler-Ross's classic On Death and Dying, and finds in the "nearing death experience" even more significant and forming stages of surrender and transcendence. These stages involve the qualities of grace: letting go, radiance, focusing inward, silence, a sense of the sacred, wisdom, intensity, and, in the end, a merging with Spirit. Through this intense process, we come to experience at last the reality of our true self, which transcends our finite ego and bodily existence, and our merging with the source of being from which we originated. Dying is safe.
In clear, nontechnical language, Singh reveals the transformations that come with dying, using the vocabulary of growing Western, as well as Eastern, wisdom.
Written for those aware that their life is coming to an end, those who care for the dying, and, ultimately, for all of us who inevitably face our own death and the deaths of the people we love,The Grace in Dying reveals that dying is the most transforming, powerful, and spiritually rich of life's experiences.