―Danielle Ofri, 2014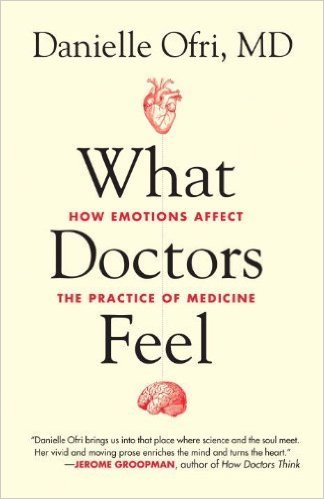 A look at the emotional side of medicine—the shame, fear, anger, anxiety, empathy, and even love that affect patient care
Physicians are assumed to be objective, rational beings, easily able to detach as they guide patients and families through some of life's most challenging moments. But doctors' emotional responses to the life-and-death dramas of everyday practice have a profound impact on medical care. And while much has been written about the minds and methods of the medical professionals who save our lives, precious little has been said about their emotions. InWhat Doctors Feel, Dr. Danielle Ofri has taken on the task of dissecting the hidden emotional responses of doctors, and how these directly influence patients.
How do the stresses of medical life—from paperwork to grueling hours to lawsuits to facing death—affect the medical care that doctors can offer their patients? Digging deep into the lives of doctors, Ofri examines the daunting range of emotions—shame, anger, empathy, frustration, hope, pride, occasionally despair, and sometimes even love—that permeate the contemporary doctor-patient connection. Drawing on scientific studies, including some surprising research, Dr. Danielle Ofri offers up an unflinching look at the impact of emotions on health care.
With her renowned eye for dramatic detail, Dr. Ofri takes us into the swirling heart of patient care, telling stories of caregivers caught up and occasionally torn down by the whirlwind life of doctoring. She admits to the humiliation of an error that nearly killed one of her patients and her forever fear of making another. She mourns when a beloved patient is denied a heart transplant. She tells the riveting stories of an intern traumatized when she is forced to let a newborn die in her arms, and of a doctor whose daily glass of wine to handle the frustrations of the ER escalates into a destructive addiction. But doctors don't only feel fear, grief, and frustration. Ofri also reveals that doctors tell bad jokes about "toxic sock syndrome," cope through gallows humor, find hope in impossible situations, and surrender to ecstatic happiness when they triumph over illness.  The stories here reveal the undeniable truth that emotions have a distinct effect on how doctors care for their patients. For both clinicians and patients, understanding what doctors feel can make all the difference in giving and getting the best medical care.
―Nell Lake, 2015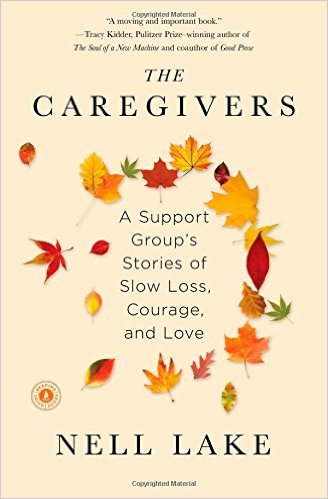 A moving, intimate, and compassionate book that chronicles the experiences of a group of long-term caregivers—spouses, parents, and friends of the elderly and ill—illuminating critical issues of old age, end-of-life care, medical reform, and social policy—and "providing comfort in the time-honored form of shared experience" (The Minneapolis Star-Tribune).
In 2010, journalist Nell Lake began sitting in on the weekly meetings of a local hospital's caregivers support group. Soon members invited her into their lives. For two years, she brought empathy, insight, and an eye for detail to understanding Penny, a fifty-year-old botanist caring for her aging mother; Daniel, a survivor of Nazi Germany who tends his ailing wife; William, whose wife suffers from Alzheimer's; and others with whom all caregivers will identify.
Witnessing acts of devotion and frustration, lessons in patience and in letting go, Lake illuminates the intimate exchanges of caregiving and care-receiving and considers important and timely social issues: How can we care for the aging, ill, and dying with skill and compassion, even as the costs and labors of care increase? How might the medical profession take into account the needs of caregivers as well as patients? In The CaregiversNell Lake shares a thoughtful and tenderly reported depiction of the real-life predicaments that evoke these crucial questions.
With more and more people spending their late years ill and frail, and 43 million Americans already caring for family members over age fifty, this is an important chronicle of a widely shared experience and a public concern. "The Caregivers is as elegantly constructed as a novel, but more than that, Lake writes about these people with such warmth and vividness that they feel as memorable as our favorite fictional characters. It is a beautifully written account" (The Boston Globe).
―Paul Spiegelman, Britt Berrett, 2013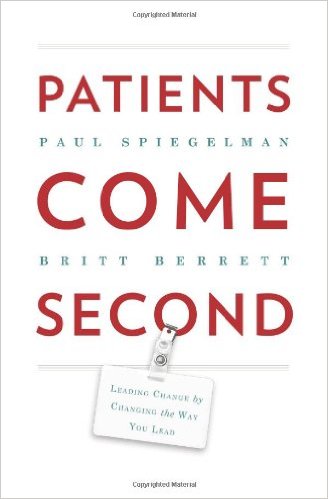 Americans enjoy the finest healthcare delivery system in the world, but most people will tell you that we still have a long way to go. Far too frequently, patients leave the doctor's office or hospital feeling confused, angry, or neglected. Healthcare leaders recognize this problem, but in their focus on patients (and sometimes financials), they often overlook the true key to lasting patient loyalty and satisfaction: their employees.
Patients Come Second shakes up the traditional healthcare model, arguing that in order to care for and retain patients, leaders must first create exceptional teams and find ways to engage nurses, administrative staff, physicians, supervisors, and even housekeeping staff and switchboard operators. By connecting employees' work with a higher purpose and equipping them with the tools to become leaders themselves, patient care can be dramatically transformed. And with continuing healthcare changes on the horizon and ever-rising pressure to acquire and keep patients, doing so now is more important than ever.
Britt Berrett, president of an 898-bed hospital, and Paul Spiegelman, founder and CEO of a successful patient-experience company, are the perfect guides to the changes needed in healthcare leadership. With a rich combined experience in their field, they have filled each chapter with an abundance of engaging, insightful stories and write with a humor and friendliness that balances and enhances the urgency of their message.