―Richard Groves, 2010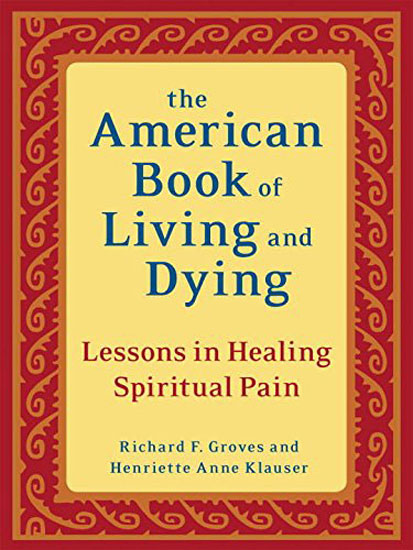 Internationally acclaimed book co-authored by Soul & Science presenter, Richard Groves.  New York Times review says, "As groundbreaking as the work of Elisabeth Kubler-Ross…"
For most people, the thought of dying or caring for a terminally ill friend or family member raises fears and questions as old as humanity: What is a "good death"? What appropriate preparations should be made? How do we best support our loved ones as life draws to its close? In this nondenominational handbook, Richard F. Groves and Henriette Anne Klauser provide comfort, direction, and hope to the dying and their caregivers through nine archetypal stories that illustrate the most common end-of-life concerns. Drawing from personal experiences, the authors offer invaluable guidance on easing emotional pain and navigating this difficult final passage.
With a compelling new preface, this edition also features an overview of the hospice movement; a survey of Celtic, Tibetan, Egyptian, and other historic perspectives on the sacred art of dying; as well as various therapies, techniques, and rituals to alleviate suffering, stimulate reflection, and strengthen interpersonal bonds. The American Book of Living and Dying gives us courage to trust our deepest instincts, and reminds us that by telling the stories of those who have passed, we remember, honor, and continue to learn from them.
Focus of this book parallels this Soul & Science program series and offers nine case studies and best practices related to person's dealing with spiritual pain at the end of life.
―Elisabeth Kübler-Ross, Ira Byock M.D. (Foreword), 2014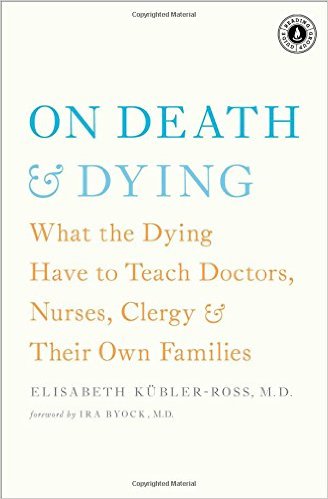 Ten years after Elisabeth Kübler-Ross's death, a commemorative edition with a new introduction and updated resources section of her beloved groundbreaking classic on the five stages of grief.
One of the most important psychological studies of the late twentieth century, On Death and Dying grew out of Dr. Elisabeth Kübler-Ross's famous interdisciplinary seminar on death, life, and transition. In this remarkable book, Dr. Kübler-Ross first explored the now-famous five stages of death: denial and isolation, anger, bargaining, depression, and acceptance. Through sample interviews and conversations, she gives readers a better understanding of how imminent death affects the patient, the professionals who serve that patient, and the patient's family, bringing hope to all who are involved.
This edition includes an elegant, enlightening introduction by Dr. Ira Byock, a prominent palliative care physician and the author of Dying Well.
– Atul Gawande, 2014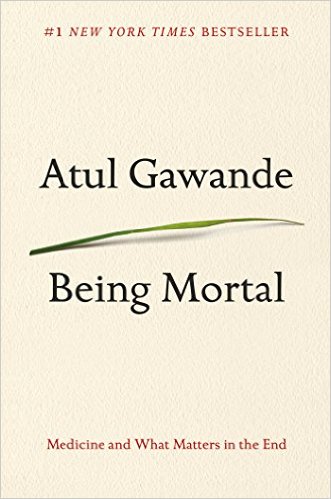 In Being Mortal, bestselling author Atul Gawande tackles the hardest challenge of his profession: how medicine can not only improve life but also the process of its ending
Medicine has triumphed in modern times, transforming birth, injury, and infectious disease from harrowing to manageable. But in the inevitable condition of aging and death, the goals of medicine seem too frequently to run counter to the interest of the human spirit. Nursing homes, preoccupied with safety, pin patients into railed beds and wheelchairs. Hospitals isolate the dying, checking for vital signs long after the goals of cure have become moot. Doctors, committed to extending life, continue to carry out devastating procedures that in the end extend suffering.
Gawande, a practicing surgeon, addresses his profession's ultimate limitation, arguing that quality of life is the desired goal for patients and families. Gawande offers examples of freer, more socially fulfilling models for assisting the infirm and dependent elderly, and he explores the varieties of hospice care to demonstrate that a person's last weeks or months may be rich and dignified.
Full of eye-opening research and riveting storytelling, Being Mortal asserts that medicine can comfort and enhance our experience even to the end, providing not only a good life but also a good end.
– Maggie Callanan, Patricia Kelley, 2012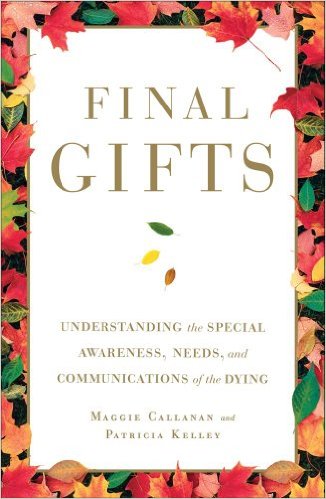 In this moving and compassionate classic—now updated with new material from the authors—hospice nurses Maggie Callanan and Patricia Kelley share their intimate experiences with patients at the end of life, drawn from more than twenty years' experience tending the terminally ill.
Through their stories we come to appreciate the near-miraculous ways in which the dying communicate their needs, reveal their feelings, and even choreograph their own final moments; we also discover the gifts—of wisdom, faith, and love—that the dying leave for the living to share.
Filled with practical advice on responding to the requests of the dying and helping them prepare emotionally and spiritually for death, Final Gifts shows how we can help the dying person live fully to the very end.
―Ira Byock MD, 1998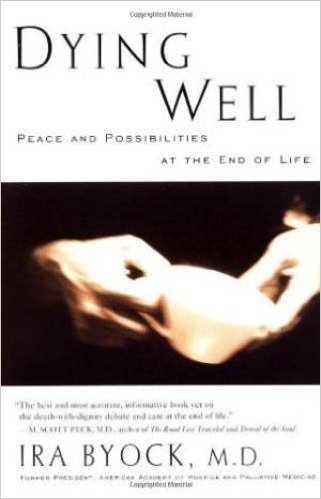 From Ira Byock, prominent palliative care physician and expert in end of life decisions, a lesson in Dying Well.
Nobody should have to die in pain. Nobody should have to die alone.
This is Ira Byock's dream, and he is dedicating his life to making it come true. Dying Wellbrings us to the homes and bedsides of families with whom Dr. Byock has worked, telling stories of love and reconciliation in the face of tragedy, pain, medical drama, and conflict. Through the true stories of patients, he shows us that a lot of important emotional work can be accomplished in the final months, weeks, and even days of life. It is a companion for families, showing them how to deal with doctors, how to talk to loved ones—and how to make the end of life as meaningful and enriching as the beginning.
– Joan Halifax, Ira Byock (Foreword), 2009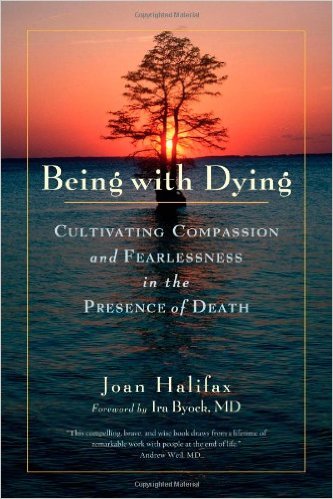 The Buddhist approach to death can be of great benefit to people of all backgrounds—as has been demonstrated time and again in Joan Halifax's decades of work with the dying and their caregivers. Inspired by traditional Buddhist teachings, her work is a source of wisdom for all those who are charged with a dying person's care, facing their own death, or wishing to explore and contemplate the transformative power of the dying process. Her teachings affirm that we can open and contact our inner strength, and that we can help others who are suffering to do the same.